Quality-related strategies and courses by Dr. Ron Berthelot may be customized and scheduled for your precise needs in any field of business, industry, government, education, health or other services. They can be tailored for managers, supervisors, operators, skilled technicians, quality professionals, teachers, trainers, or human resource professionals. We work closely with you to help you help yourself.

Here are a few of Ron's favorites; some involve Dolly too.

Introducing TQM-- Start right. Fundamentals to initiate your quality transformation. Includes essential philosophical, technical, and human dimensions.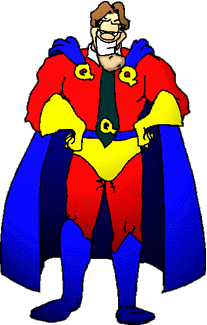 Powerful Q-Man--Achieve quality management excellence. Prepare for the ASQC CQM exam or just boost your QM skills. Our lively superhero exemplifies the power-traits you'll gain.
Quality Co$ts--Improve profits and reduce the cost of poor quality. Essential principles and practices show you how to balance the equation for higher quality and higher profits.
ISO 9000, Implications for HRD, Education, & Training-- Apply international standards for quality management to crucial human aspects of continuous improvement. (See Ron's article on ISO 9001 in Training & Development, February 1993.)
Quality Surveys--Build a solid, healthy foundation on which to build your quality improvement effort. We'll assess your quality for you or teach you how to do it better yourself.
SPC For Success--Join our proven success stories of those with little or no prior statistical experience--who quickly learn to apply statistical process control to boost work performance. (A non-math-genius himself, the instructor understands you...)
Problem-Solving Tools--Pareto analysis, fishboning, brainstorming, and special Berthelot techniques.
OJT That Works!--Make this most common workplace training method much stronger. Develop better eliciting, explaining, evaluating, and job analyzing skills within a productive structure.
We also train your trainers or other appropriate personnel to continue efforts internally, in the classroom or in the field. Our goal is always to help you help yourself--however you prefer to do that.