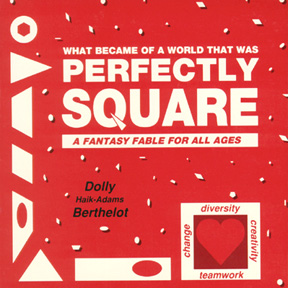 This unique
little book
shows life
confused,
conflicted,
and enriched
by diversity.


A fanciful world of "perfect squares" must cope with new rectangles, triangles, circles, "gons" and other weirdos, each with distinct personalities and predilections. In this quirky story, creativity and teamwork work wonders. Principles of human relations, change management, even TQM are exemplified in a simple, amusing story that appeals to many ages and backgrounds.

Dr. Dolly booksigning following her program 'Your Church
Is NOT Perfectly Square.'

Playful imagery, type, design, and pictures delight as ideas unfold. Quick, provocative read worth repeat savorings. Fun, inspiring learning aid for adults and bright children.

" Perfectly lovely, a charming, gentle little work that makes you smile and makes you think. I just loved it."
--Betty Williams, Nobel Peace Prize Winner l977

"Articulate, positive, spiritual, visually and intellectually entertaining. Useful training tool for workshops on diversity or relationships. Uplifting, a great gift."
--Rosalind Fisher-Emerson, Asst. VP Affirmative Action, U. of West Florida

Dr. Dolly, a Pensacola-based communication consultant, writer and editor, provides advice, creative services, and innovative workshops related to the timely issues synthesized in PERFECTLY SQUARE.

PERFECTLY SQUARE
Softcover book, first edition. Direct from Dr. Dolly $9 plus $3 for shipping ($12 total) plus 7.5% in U.S. Beyond U.S., $15 postpaid. U.S. check or money order. Personalized, signed copy on request, direct from Dr. Dolly.

"20 Questions to Spur Thought and Talk," this companion brochure helps trainers, HR developers, managers, teachers, counselors, ministers and others use PERFECTLY SQUARE as an independent or group stimulus to raise consciousness and motivate positive change. Questions appear under each of the story's major themes: change, diversity, creativity, teamwork.
$1.75 each postpaid. Available with book order only. Florida residents add 7.5% sales tax for all books. Beyond U.S. $2.10 including shipping. U.S. checks or money orders to Dr. Dolly Berthelot.